Effectively reaching a technical audience can be tricky. Here at DZone, we've worked hard to build relationships with millions of developers over the past 10 years. Technology professionals around the world trust us to bring them unbiased articles, research, and tutorials.
Product marketers and technology evangelists can leverage our platform to reach this highly coveted audience of influencers and decision makers. Here are five ways to make sure you're getting the most out of marketing on DZone:
1. Write Articles for DZone – Useful Content Is Why They're Visiting the Site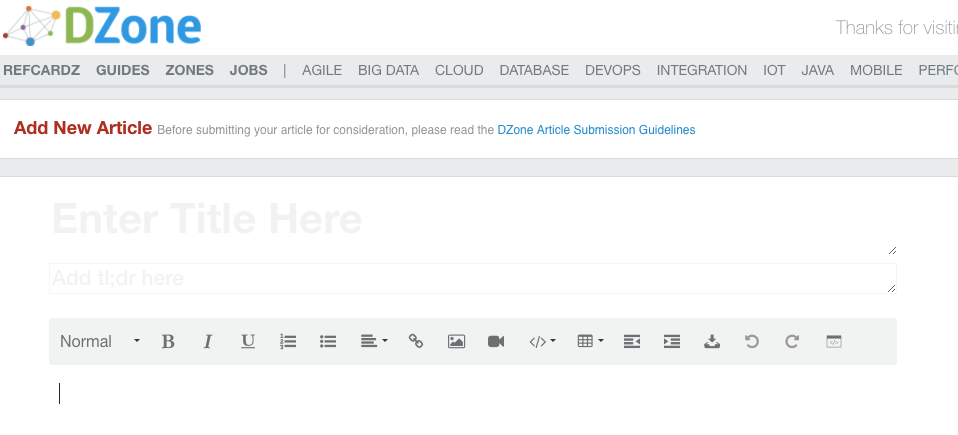 We encourage our partners to take advantage of our large reach and publishing platform by having their experts share content. Anyone is welcome to submit content to our editorial team for review and publishing.
DZone's editorial team carefully curates the best developer content for our audience. They're always looking for content that fits into one of our Zones (found in the navigation bar on our site). Contributing content will make you stand out as a thought leader to your target audience and showcase expertise.
2. Don't Only Rely on Marketers to Write Content
We've previously talked about leveraging SMEs in your organization, and sharing content on DZone is a great way to get your technical experts involved. Tutorials and technical content by product experts tend to see the highest performance and engagement on DZone.
3. Be Proactive and Engaged With Your Campaign
Our customer success team is here to ensure your campaigns and partnerships are successful. We stay up to date on your campaign's performance and are proactive in identifying areas of opportunity. We communicate with you throughout the entire campaign, not just at the beginning and the end.
DZone partners are encouraged to stay highly engaged. If banners aren't performing as well as you expected, then let's change them! DZone wants to make sure you're happy with the results of your campaign, and we'll always be flexible with making updates to your campaign.
4. Keep Updating and Adding Fresh Materials
DZone partners who regularly update featured resources, text ads, and banner ads typically see the best results in terms of campaign performance. We suggest updating materials every 45-60 days to prevent your campaign from becoming stale and overlooked by our users. On average, campaigns with updated banner ads performed 155% better than campaigns with banner ads that haven't been changed out in months.
5. Actively Promote Campaigns That are Concurrently Running on DZone
We reach millions of tech professionals on our site and thousands through email – you could say we're pretty connected.
But that doesn't mean we're better than co-marketing. When a company sponsors a Research Guide or Refcard, they should promote the publication to their audience! Share sponsored publications with your clients and team members, and tweet your latest article on DZone to showcase your industry expertise.
We want all of our partners' campaigns to succeed. These five tips will help you get the most out of DZone when marketing to a technical audience. What are some successes you've seen while partnering with DZone?