During the first three months of 2018, our goal was to add 1600 new developers to the DZone community.  We will discuss how we surpassed that goal in only two months by crafting an effective Facebook ad campaign to developers and demonstrate how to avoid the mistakes we made along the way.
Step 1: Round Up Your Data
First and foremost, you must connect your Facebook pixel to the location that is connected to the action you want FB users to take. If you're not familiar with the term, a FB pixel is a plugin that collects data and ensures that your ad is being shown to the right people; it also unlocks additional FB advertising tools. In our case, our objective was to add new members, so we connected the pixel with the goal of delivering our ads to people who were more likely to sign up on DZone.com.
You will never get results using Facebook ads without quality content. In our case, our goal was to reach developers who may not have ever interacted with DZone's content before. The best way to introduce ourselves was by leveraging existing data to determine our most popular subject matter. We started by using our topical Guides, which already perform well on our social channels.  The next step was to find our most popular and up-to-date Guide content which in this instance, focused on the topics Java and DevOps.
Step 2: Let's Talk Campaign Building
Now, let's get down to brass tacks. To start building your Facebook ad campaign, you must always start with your objective for the campaign. In our case, we were working toward getting more developers to take an action and register on our site, so our objective was conversions. This is crucial because it determines how Facebook optimizes your advertisements, whether the objective is more clicks to your landing page, people installing your app, or in our case, conversions.
If you have only one objective, but you're focusing on different products or business categories, you should create a separate campaign for each category/product. In addition to promoting our Guides, we also advertised our topical cheat sheets (Refcardz) so we created a separate campaign for each.

Step 3: Crafting Your Ad Set
The next stage in the process is to create your ad set. This is where you set your budget and determine your audience. As far as your budget goes, start low! $10/day per ad is all you need to get enough results to see whether your audience is a strong performer.
The fun really starts when targeting your audience. Here are some best practices for targeting developers:
Location targeting: Search for the topic you're promoting in Google Trends and add the top 10 locations that show up in the "interest by region" section to your locational targeting in your ad set.
Start by targeting both mobile and desktop feeds: Your ad will require more data in order to optimize to meet your objective. The Facebook ad algorithm will automatically begin to target the best placement, whether it be mobile or desktop.
Cheaper clicks on mobile: After reaching over 800,000 developers through Facebook ads in that two-month timeframe, we determined that advertising to mobile newsfeeds was more effective than desktop. Though we recommend allowing your ads to optimize for your specific audience by targeting both desktop and mobile at first, we ended up seeing a 66% CTR improvement when placed in front of developers on mobile rather than on desktop newsfeeds.
What not to do when targeting devs: Don't get caught in the trap of wanting to place your ads in the audience network, right column, or instant articles for developers. This will simply bump up the number of times devs will see your ads, but they're less likely to take a worthwhile action when clicking through these placements. We found our best success in the Facebook mobile and desktop feeds. You could also try out Instagram if you are active on this platform.
North American audience vs location-targeted countries: We also had an additional goal of acquiring new NA members to our site along with signing up developers around the world. It was 70% cheaper to acquire members using ads that were location-targeted based on topic vs. strictly focusing on NA. If you're simply looking for greater awareness/more conversions for a lower cost, then using Google Trends for specific, location-based targeting is the best route.
The Guide to Java that we promoted was a strong resource not only because of popularity, but because of the fact that there are many ways to target the topic. Facebook targeting allowed us to focus on those who study Java, people who have Java-related job titles, and interests related to Java.
Having trouble targeting the topic you're focusing on? We use the audience insight tool to find relevant keywords to target. An example of a topic that gave us trouble was DevOps. Our original attempt at interest targeting yielded a small audience, but the audience insight tool provided us similar interests that expanded our audience and helped optimize our targeting.
Step 4: Creating the Ad That Devs Can't Resist Clicking
Once you've put together your targeted audience, it's time to focus on creating the advertisement itself. Let's go ahead and discuss best practices for ad copy, imagery, and other aspects of what your audience will see once your ad goes live.
Get your call-to-action (CTA) right: Depending on what your objective is, you need to choose the CTA that matches it to ensure your audience is clear on the action you want them to take. In our case, we came to a conclusion that using the CTA "download" made the audience 36% more likely to click than the CTA "learn more". The content we wanted
A brief, benefits-driven ad description: We discovered that a combination of a brief summary and a few benefits of the content you're promoting was a great way to entice devs to click. Leave out the fluff and get straight to what they'll be getting out of it. You can see an example of a strong description below.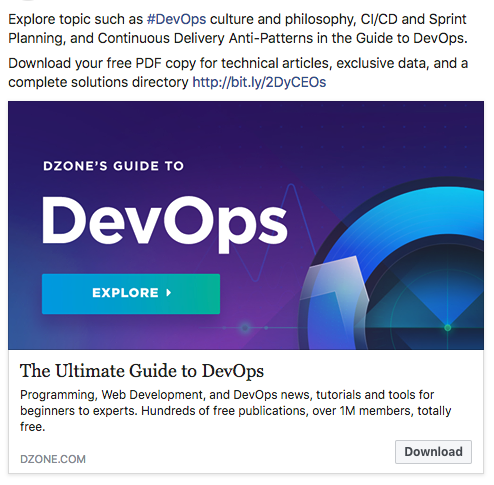 Ad title: We tested out the best structure for a title, and there was a 22% improvement in CTR when using the format "The Ultimate Guide to (resource topic)" versus other variations. Below is an example of a couple of versions we tested.
Minimal text in ad image: Keep the text that you have in your graphic at a minimum in order to reach the entire audience stated in your ad set. You can use this tool to test the amount of text in your image before your ad goes live:
Watch the frequency: The longer your ad runs, the more your audience sees the ad. Common sense, right? Well, a statistic called frequency will tell you how much your audience has seen your ad. It's calculated by dividing the number of impressions by the reach. In one example, the CPC of our ad rose as much as 75% in one day once the frequency hit 3.00. The point of diminishing return varies by your audience, but we recommend keep a close eye on it when the frequency hits 2.00.
Split test: In most cases, it's important to test different versions of an ad in order to determine what works best. For example, we tested two different versions of images and two versions of ad copy under one ad set. This led to us creating 4 unique ads for one resource in order to ultimately choose the best image and ad copy to use. We will discuss how to optimize your ad when you set up a split test in the next section.
Refinement and Optimization
Now that your campaign has been targeted, your audience has been set, and your ad has been created, it's time to get your ad live! Once you've given your ad time to run and collect some data (around 500 impressions), you can analyze it and determine whether adjustments need to be made.
In order to optimize for the best version of your ad in a split test, you will want to take a look at factors such as the CTR and CPC to determine which performed best. Ultimately, only one ad should remain. In our example, we tested two versions of images and two versions of ad copy and chose the ad that had the best combination of imagery and copy.
If you started your campaign by optimizing for both mobile and desktop for an ad, then you can break it down by placement to determine which is performing best. In our case, we found the best results by placing our ads in both mobile and desktop newsfeeds because our desktop sign-up process has a better UX, but the mobile cost per acquisition was cheaper.
Results
After two months of building and optimizing our new member Facebook ad campaign, we brought nearly 3500 new members to DZone.com and gained nearly 8,000 new Facebook fans. It was ultimately a success, but it certainly wasn't without its obstacles. We hope that this will provide you with the framework to help you build your own successful Facebook ad campaign for your developer audience.